Sheboygan Wisconsin Charter Fishing Reports
Provided by Captain James Schlegel of Sea Dog Sportfishing Charters of Sheboygan, with contributing reports from other area anglers.
---
| | |
| --- | --- |
| Stay tuned throughout the season for current Lake Michigan charter fishing reports from Sheboygan, Wisconsin. Area charter captains will keep you informed with up to the minute reports describing the latest fishing activity. Sheboygan is well known for its excellent trout and salmon fishing, and has held numerous state records over the years. With a plentiful bait fish supply, deep water access close to shore, three unique rivers, and a varied lake bottom structure, Sheboygan continues to produce a record number of fish all season long. | |
---
2017 Fishing Reports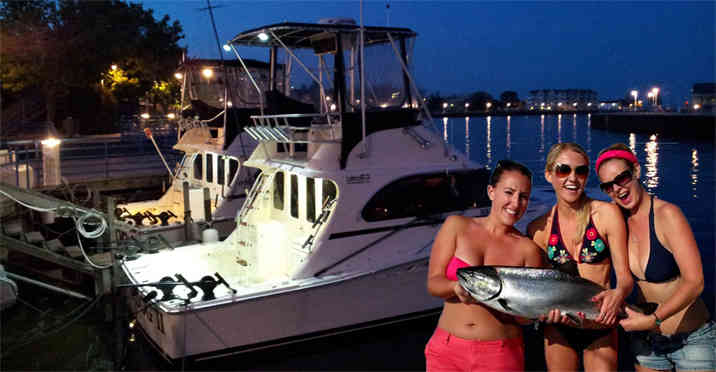 APRIL 22, 2016 - Captain James Schlegel
A great start to the season here in Sheboygan. We fished right outside the pier heads to the filtration plant in 30 to 40 foot of water. Water was cloudy due to the rains earlier this week and in the upper 40's for temperature. We caught most of our fish on boards and diver rods using a variety of spoons & stick baits. We can't ask for a better start to the year as we caught a number of larger king salmon, a huge lake trout and a bunch of browns. Join my crew and I for the 13th annual "Ride a Charter Boat Day" Tuesday May 16th starting at 6:00 pm. Free boat rides & salmon recipes sponsored by the Sheboygan Area Great Lakes Sport Fishermen's club membership. This is always a fun time with family & friends.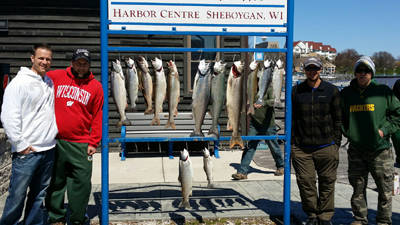 View a short video of our fishing trip
MAY 21, 2016 - Captain James Schlegel
After more then two straight days of strong northeast winds and canceled trips, we finally were able to get out on the water this Sunday. We fished right outside the pier heads where huge schools of bait fish were gathering. The coho salmon have finally started showing up at our door step. Our boats had some luck catching a number of chinook and coho salmon. No real fishing pattern at all. We used smaller spoons, plugs and the smaller orange dodgers with peanut flies. Also thanks to all the club volunteers, charter boat captains and Coast Guard for making our annual "Ride a Charter Boat Day" another success this past Tuesday. The weather cooperated and we set a new record for attendance, boat rides and smiling faces.
View a short video of our fishing trip
---
2017 Calendar of Fishing Events

January 1 to December 31, 2017 Sheboygan's Big Fish Contest
January 17, 2017 SAGLSF Club Membership Meeting
February 21, 2017 SAGLSF Club Membership Meeting
March 4, 2017 SAGLSF Awards Banquet
March 18, 2017 SAGLSF Fishing Swap Meet
March 21, 2017 SAGLSF Club Membership Meeting
April 1 to October 31, 2017 SAGLSF Club Fishing Contest
April 18, 2017 SAGLSF Club Membership Meeting
May 16, 2017 Ride a Charter Boat Day sponsored by the SAGLSF
June 3-4, 2017 Wisconsin Free Fishing Weekend, no license required
June 24, 2017 SAGLSF Junior Coho Derby
July 9, 2017 SAGLSF Sheboygan/Ozaukee Club Fishing Contest
July 19, 2017 Women's Powder Puff Fishing Derby
August 12-13, 2017 Riverfront Coho Derby
September 19, 2017 Club Membership Meeting
October 17, 2017 SAGLSF Club Membership Meeting
November 21, 2017 SAGLSF Club Membership Meeting
---
| | | | |
| --- | --- | --- | --- |
| Species | Weight | Length | Date |
| | | | |
| --- | --- | --- | --- |
| Chinook Salmon | 44 lbs. 15 oz. | 47.5" | 07/19/94 |
| Coho Salmon | 26 lbs. 1.2 oz. | 38.0" | 08/21/99 |
| Rainbow Trout | 27 lbs. 2 oz. | 42.5" | 07/26/97 |
| Lake Trout | 47 lbs. 0 oz. | na | 09/09/46 |
| Brown Trout | 41 lbs. 6 oz. | 40.6" | 07/16/10 |
---
Or call 920-918-2628 for reservations
Sea Dog Sportfishing Charters Home Page